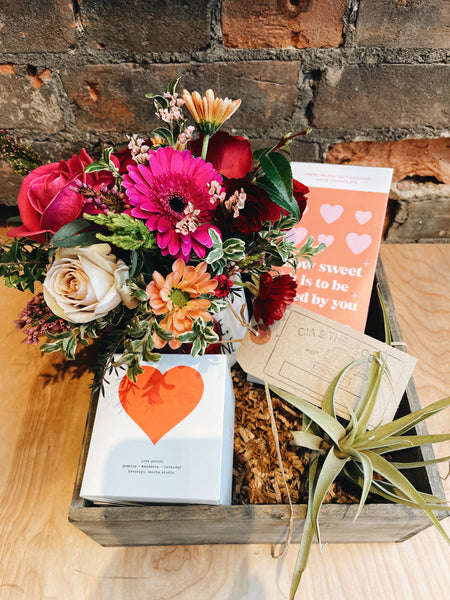 Valentine's Day - The Gift Box
This gift box includes  
Sweeter Cards - a greeting card plus a chocolate bar! Our chocolatier has been making unbelievably delicious and ethically-sourced chocolate for the last forty years.
Our sea salt caramel dark chocolate is handmade in St. Louis, Missouri using Fair Trade Certified™ ingredients. Each bar is made with soft vanilla caramel, cane sugar, fresh whipping cream, butter and Madagascar vanilla––and always topped with Mediterranean sea salt. Each batch is also hand stirred in copper kettles and made with love to ensure every single Sweeter Card is full of deliciousness that will win the card-giving game.
Brooklyn Candle Studio Candle - Escapist Collection-  
Brooklyn Candle Studio's Escapist collection takes you to our favorite places in the world, places we've traveled to that have a permanent place in our olfactory memories. Double-wicked and housed in white textured boxes and screenprinted glass tumblers, this collection will tug at the heartstrings of minimalists around the world.
Made in Brooklyn, New York with 100% soy derived from American-grown soy beans for an eco-friendly, clean burn. Uses a lead-free cotton wick primed with vegetable based wax and premium grade fragrance oil and/or essential oils. No additives, dyes, or preservatives. Hand poured into elegant straight sided clear glass jars with modern minimalist labels 
Gia and the Blooms signature floral arrangement in Valentine's Day color pallette OR a hoya Kerrii (heart shaped hoya) in a 3" terrazzo pot
Medium Air Plant