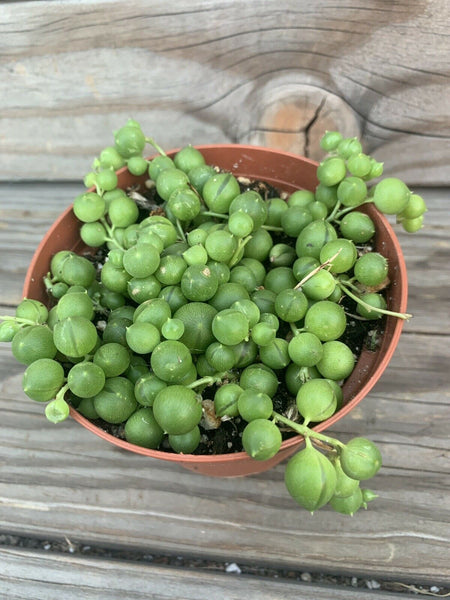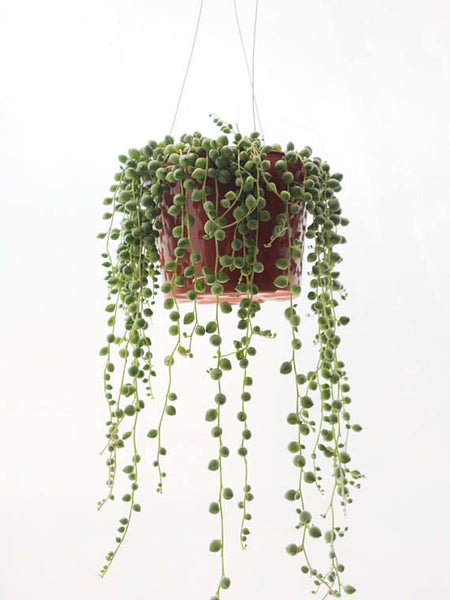 Senecio rowleyanus (String-of-pearls)
The succulent string of pearls, with its small green bubbles along a slender stem, recalls the plastic pop-apart beads of childhood dress-up bins. It can't help its quirkiness.
Also known as "string of beads" or "rosary," this succulent is a perennial vine of the Asteraceae family and is native to southwest Africa. Like most succulents, it requires very little hands-on care.
In addition to its unique foliage, string of pearls can produce tiny white flowers with bright-colored stamens. (Some say the blooms smell like cinnamon.) To encourage spring flowers, cut back on water and move the succulent to a slightly cooler area (around 60 degrees Fahrenheit) throughout the winter months.
String of pearls does well in bright light. Consider placing it on a sunny windowsill or, if bright sunlight is limited, leave it under a fluorescent light during daylight hours.
Make sure there's plenty of room for your plant to sprawl. Consider displaying it in a hanging basket so tendrils can cascade downwards.
Be sure the plant (and any fallen beads) are out of reach of children and pets: This succulent can be toxic when consumed.
Keep string of pearls in average indoor temperatures, around 72 degrees Fahrenheit, and avoid drafty areas.
Like most succulents, string of pearls is drought tolerant. Make sure to plant it in a pot with a drainage hole and use potting mix suitable for cacti. Soak the soil thoroughly in when watering, then make sure to let the topsoil dry out completely before watering again.
To prune, simply trim off any bygone stems or beads.
Source - Gardenista